Day Camps

Our second year of Day Camps was a great success—and there are lots of thanks to go around! To all the campers, first and foremost, you are why we are here. Your courage, your excitement, and your curiosity kept us on our toes every day. To the families for finding us, trusting us, and giving us great feedback along the way (over 100 feedback submissions!), we greatly appreciate you all. To our staff team for rolling with the waves that come with hosting 70+ campers each week: the regulations were ever-changing but, through that all, you kept the focus on the camp experience! These camp programs are the result of our collective care and big ideas.
Given the limited capacity of our 2021 season, we're especially grateful to the granting organizations that have backed our work. Thanks to the Canada Summer Jobs program, and to Zac, Shwetha, Madhuri, Shuya, and the whole Project Learning Tree team for connecting us with their Green Jobs and their Green Jobs Internship Program funding. Forest education experiences are worth supporting!
Until next time, we'll be over here prepping our trails, fixing up our cabins, testing out recipes, dreaming the next great program activity, and planning for your arrival. We can't wait!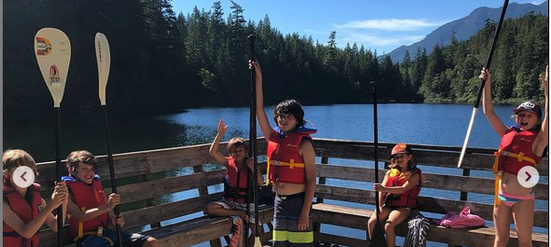 Family Weekends
Our first year of Family Weekends was a roaring success. This summer, over the course of four weekends we hosted a total of 52 families (199 campers) at these camps. This program was an excellent introduction to those experiencing camp for the first time and the perfect opportunity for past campers to share camp with their family and friends. Thank you to the team for executing a flawless program and thank you to our families for trusting us with your time. We really did love sharing camp with you and getting to know you.
We look forward to running these weekends again next summer.
FUTURE PROGRAM UPDATES
Winter Camp 2021
Currently, the BCCDC and the BC Camps Association have approved overnight camps for children and youth, with guidelines requiring that all programming be held primarily outdoors and for our buildings to be well ventilated. As such, we have decided not to offer Winter Camp this year as it simply does not work well to operate this program during the coldest month of the year under these guidelines. While we love our Winter Camp program and look forward to it every year, at this time it is in the best interest of our campers and staff to not run this program.
As our public health climate continues to evolve and improve, we look forward to and are planning for Winter Camp 2022!
Summer Camp 2022
With the ever-changing climate of COVID-19, we are waiting to make some decisions about next year's summer camp program offerings (day and overnight camps). Our hope is that with children ages 5-11 being vaccinated soon and many children ages 12+ having been vaccinated, we can return to overnight camp programming for summer 2022. Currently, overnight programs for children and youth are permitted by the BCCDC, the BC Camps Association and the Provincial Health Officer. What exactly this will look like closer to summer 2022 remains to be seen. We will update you again in early 2022, including registration dates, costs, and COVID-19 guidelines.
---
DONATION- THANK YOU!
In Memory of Stephanie
This year, we received a very generous donation from the family of a past camper who, sadly, passed away a couple of years ago. The donation allowed us to create a new endowment fund that will subsidize one additional camper each year. It has also enabled the replacement of several roofs in the upper grounds. On behalf of the Board of Directors and the Evans Lake team we want to thank Jane Holland for thinking of us, working with us to find the right fit for your donation and for always supporting our programs. We appreciate it more than words can say.
As a tribute to Stephanie and to this donation, we will also be installing a swing bench at camp in the coming months. It will be located on a quiet spot overlooking the lake. A place for campers to take a moment to reflect on their camp experience, while enjoying the serene views with a friend. Something Steph would have loved ❤️.
About Stephanie, by Holly Clarke
"Steph was like no one else, her courage and bravery knew no bounds. Everything she cared for became so precious and special, and every person she loved, she surrounded them in her light and warmth. Steph and I started going to Evans Lake as soon as we could. Hearing stories about it from my brother we were eager to make our own memories in this special place.  Steph returned for several years, spending 99% of morning activities and rec time at either archery or the swim dock. Her excellent core strength combined with her competitive spirit made her one to beat in log birling down at the dock.Steph loved music (the Rolling Stones, Jimi Hendrix, the Beatles), and was always up for anything. She would go on every ride at the PNE and dared 'Fright Nights' to truly scare her. She made every small moment in life special with her thoughtful heart and creativity. Evans Lake was always a highlight of her year.I hope friends at camp use Steph's Swing as a special place to connect and get lost in thought and conversation like Steph and I did in this forest "
                                                           v
Also, we would like to send a big thank you to Vancouver Hoo Hoo Club #48 for the cedar shingle donation for these roofs.
TEAM NEWS
Welcome Row
Please join us in welcoming our newest team member, our new Program Manager, Row Burke. Row joins the Evans Lake community from Ontario camping and has successfully completed 2 months working with our fall groups. We are excited about her extensive experience in the camping industry and her enthusiasm for youth programming. We look forward to getting to know her more and the passion and skills she will bring to her role with Evans Lake. Welcome, Row!READ MORE ABOUT ROW
THANK YOU TO OUR TEAM!
A huge thank you to our Evans Lake team for all the hard work you have done this past year and a half. From switching up and creating new programming, getting creative with limited funds, driving the daily day camp bus, to working long kitchen hours (to name a few) — WE THANK YOU! These past 20 months have tested and exhausted us. But with each new hurdle you rose up and met the challenge with positivity, solutions and smiles. You are all phenomenal humans, and we are lucky to have you!
READ MORE ABOUT OUR STAFF